Organizing a Gift Exchange is easy, fun, and free. The instructions are here to see how it's done.
Elfster is a FREE Gift Exchange website to make gift-giving easier. Our Secret Santa Generator makes Christmas, holidays, and other Gift Exchanges extra joyful so you can spend less time organizing and more time celebrating.
If you don't have an Elfster account, you'll be prompted for some basic information.
If you are already logged into your Elfster account, you'll be able to start creating the Gift Exchange right away.
If you are logged into Elfster, you can select EXCHANGES in the menu and select Create an Exchange, but since you're reading this, just click the link.
Follow the setup wizard in the Secret Santa Generator to invite any number of people, including an odd number!
✨ Elf Tip: To easily create a repeat Gift Exchange with the same people, select "Yes, start with an existing exchange" and then choose a previous exchange from the drop-down menu under Choose an Exchange.
On the next screens you'll:
Enter the Gift Exchange name and date and indicate if you are participating or just organizing
Choose if gifts will be exchanged by mail or in-person
Set your budget and add any special rules or notes for your guests
Choose a picture or upload your own
If you started with an existing exchange, the list of previous guests will be available to invite or edit. If you started fresh, you'll be able to invite guests.
📝 Gift Exchanges through the mail will require participants to enter their mailing addresses so the person who draws them will know where to send their gift. 📝
Inviting Everyone to the Gift Exchange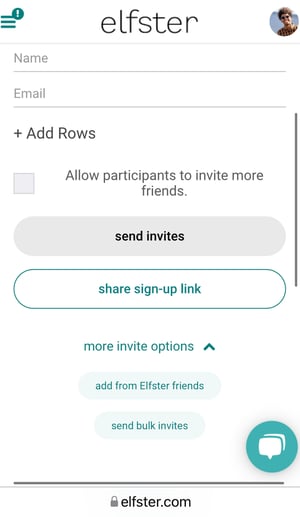 Inviting everyone is easy! There are several ways to invite:
Enter names and email addresses.
Invite your Elfster friends.
Bonus of these two options: We keep track of the invitations and send your participants a reminder 📥 if they forget to RSVP.
Copy the invitation link to share on social media.
📝 Organizers are automatically included in each Gift Exchange. If you want to just organize and not be included in the draw check the No, I'm just organizing the fun box under Are you participating? when you create the Gift Exchange. You can also change your RSVP any time before names are drawn under the Participants header on the Gift Exchange homepage. 📝


Begin a Gift Exchange in the Apps
Tap the Exchanges icon in the Navigation bar.
Tap Create in the top right.
Select "Yes, start with an existing exchange" and choose the previous Gift Exchange name OR choose "No, let's start fresh", and enter the Gift Exchange name.
Enter the Gift Exchange name and date and indicate if you are participating or just organizing
Choose if gifts will be exchanged by mail or in-person
Set your budget and add any special rules or notes for your guests
Choose a picture or upload your own
Tap the Send Invitations button. If you started with an existing exchange, the list of previous guests will be available to invite or edit. If you started fresh, you'll be able to invite guests.
Congratulations 🎉 your Gift Exchange is created! 💫