If your participants don't have a preference about shipping internationally, you don't need to do anything special. If they do, you can set an option to let them indicate their preference.

Unless you have activated the Participant International Shipping Option in the Gift Exchange SETTINGS, we will draw names without worrying about what country your participants live in. That means participants may or may not be shipping outside of their country.
If some people participating do not want to ship internationally, the Participant International Shipping Option needs to be checked so that people can indicate their international shipping preference. When that box is checked everyone will be asked to indicate their preference when they RSVP. Those individuals who don't indicate that they are willing will not be paired outside of their country. This sometimes means that the draw won't happen.
There needs to be at least two participants per country if individuals are not willing to ship internationally.
Steps to Activate the International Shipping Option
Select your Gift Exchange.

Select Settings in the Orga1nizer menu.

Click the box under Participant International Shipping Option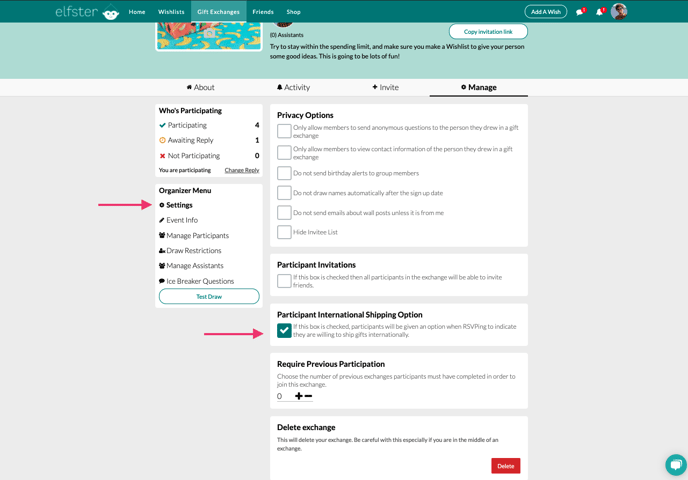 📝 If your Participants want to ship internationally, rather than being paired with someone in their own country, you will need to set DRAW RESTRICTIONS so they don't draw anyone within their country and can be paired internationally. There will need to be enough people in all the countries for this to work. 📝