Virtual Gift Exchanges are a great way to continue long traditions with a new twist or start a new tradition with friends and family.
2020 is the year of all things virtual. Secret Santa🎅 Gift Exchanges can be virtual too! Creating a virtual Gift Exchange is as easy as creating any other Gift Exchange, you'll just want to be sure to share a link to your virtual meeting. (Zoom, Google Hangouts, etc.)
Tips to Create a Virtual Gift Exchange on Elfster:
Selecting "At a Party" for "How gifts will be delivered" will allow you to add a clickable link to the party location field that your participants can use on computers or mobile devices accessing Elfster via the web site.
Include your meeting link in the "Anything else you want to tell everyone?" section of the Gift Exchange. This will ensure that all your participants will see the link regardless of the platform they are using. App users won't see the clickable link. They'll need to copy and paste the link into their browser.
Remind your participants to update their mailing addresses📬 so their gift can be mailed. If you choose "Individually" Elfster will remind them when they RSVP that they need to include their mailing address, but won't include a party location, so you'll need to include the link in the "Anything else you want to tell everyone?" section.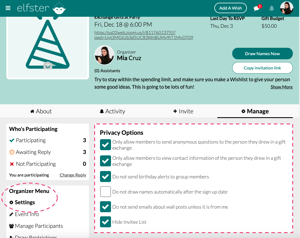 If you are hosting a Gift Exchange where the participants should only see the address of the person they draw, update the settings of the Gift Exchange so that "Only allow members to view contact information of the person they drew in a Gift Exchange" is selected. These are found in the Organizer Menu on the left side on desktop. On mobile, tap About under the dashboard and choose Settings. In the iOS and Android apps, swipe left on the gear icon ⚙️ and choose Privacy Settings.
✨ Be creative and have lots of fun! Virtual Gift Exchanges are a great way to still keep those traditions going strong or begin a new tradition! ✨