Polls are a fun way for everyone to get to know each other better.
Group polls are a great way for your members to vote on a question, such as possible options for where or when gifts can be exchanged, or maybe a theme for a future Gift Exchange.
Polls can also be created to get to know each other. You can ask questions like "When is it okay to start decorating for Christmas?" and then list various answers ... we think it's always okay. 🎄
How to Create a Poll ✅
Go to your Gift Exchange page

Scroll a little to Exchange Feed

Select the create a post button

Select the "Create a Poll" tab

Type in the question you would like to pose to the group. There is a 200-character limit for questions.

Add multiple poll answers for group participants to vote on. There is a 100-character limit for answer options.

Select the "Post" button and you're done 🥇

Participants can vote on multiple answers and polls do not have an end date. All group members can also leave a comment on the poll.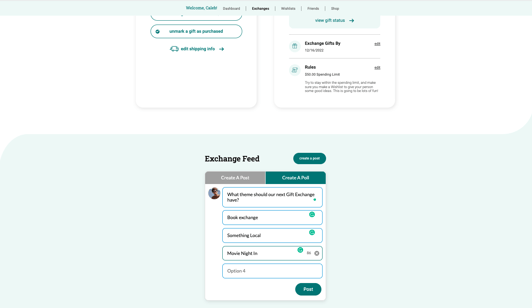 Only organizers can create polls, but everyone can answer them!